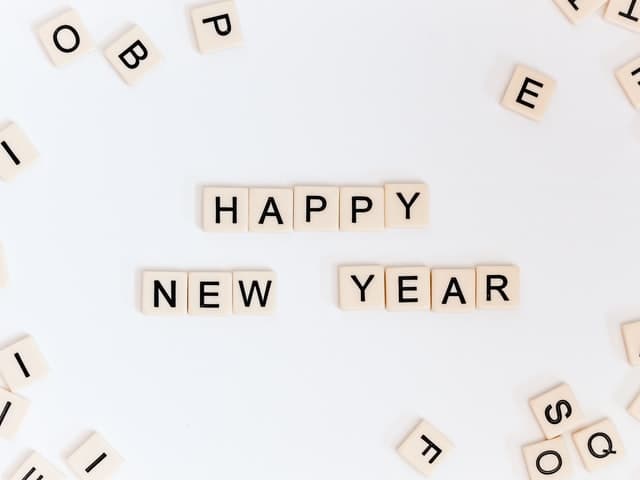 2020: What Went Well, What Didn't and Goals
A short recap of the year that is gone by and looking forward!
Table of Contents
Another year has gone by so fast, and it is again time to do a year review.
2020 has pushed us into new ways of living with COVID. I am grateful and lucky that I am in Australia, as it was least affected this year, and I hope it continues and stays the same.
TLDR;
2020 has been a year of the 'new normal.' I became more active on YouTube and continued with blogging. Reading and Tri-Sports didn't go as planned. Looking forward to 2021.
What went well
YouTube
Building out a niche for myself is something I wanted to do this year. I started doing this with my YouTube channel. The goal was to publish three videos every month while also concentrating on a particular topic.
I published 40 videos and one YouTube Live Stream during the last year! I concentrated on content around Azure DevOps and ASP NET Core. The channel got special mentions by Scott Hanselman, David Fowler, in the ASP NET Community Standup and a lot more people. I am grateful and excited for this.
I crossed the 4000 watch hours and 1000 subscribers around August, and since then, the channel is getting me money enough to buy a coffee a day. It is my first step towards passive income, and I hope to grow this in the coming years.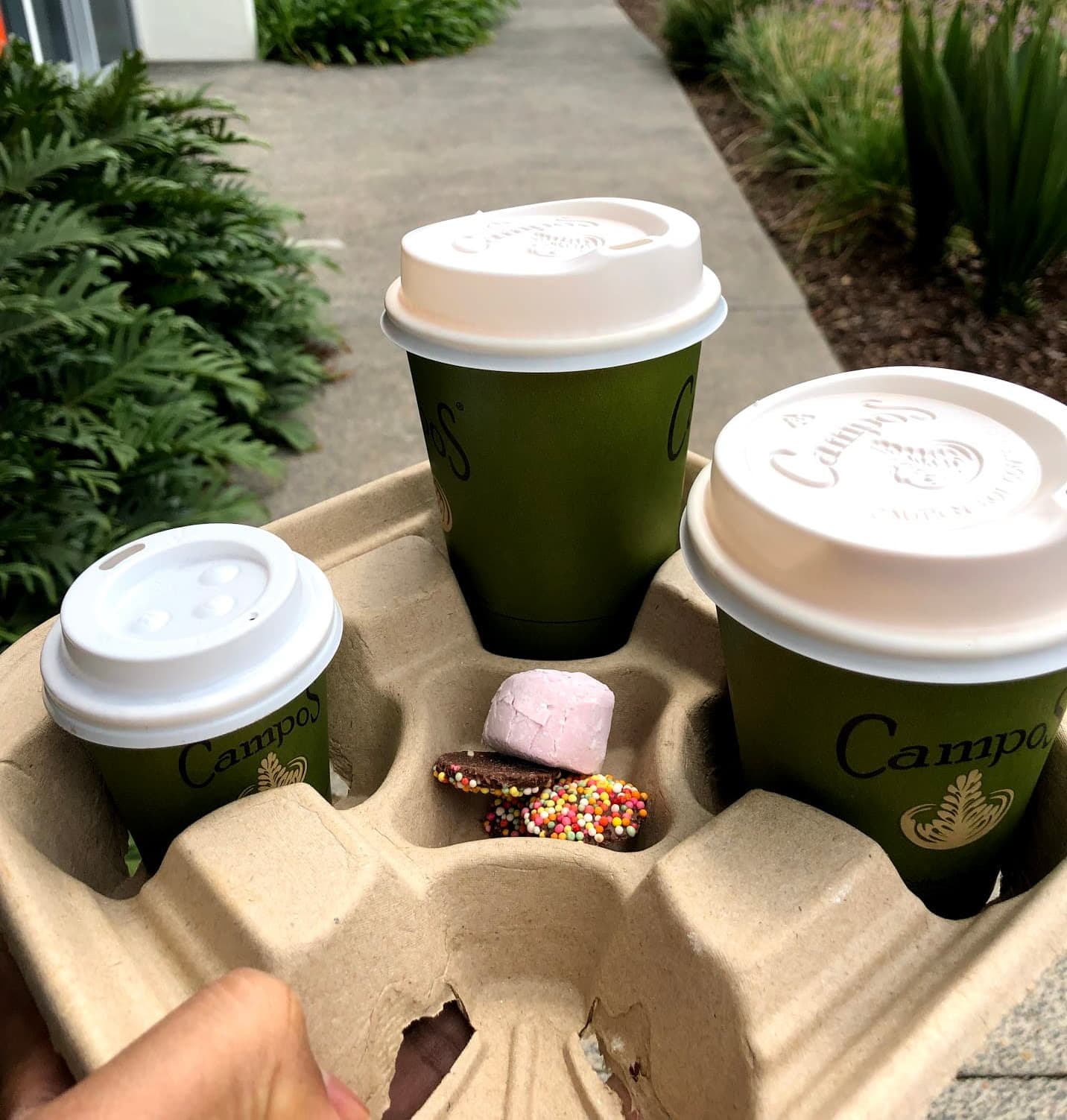 Blogging
Blogging took a bit of the backseat, with most of my focus being on YouTube. I published 25 posts (including this one) over 2020. The blogs were across different topics around DevOps, .NET, Azure, JavaScript, and Productivity.
I am still happy that I could write two posts on average each month, with so much going around the YouTube channel.
Towards the last couple of months, Parvathy (my wife) started helping me with editing the videos. It gave me a lot more time to try other things. I took a full day Masterclass Course at work on Azure DevOps and also did a talk at Microsoft User Group Hyderabad on Azure DevOps
Microsoft MVP
I received my first Microsoft MVP Award in the Azure category to recognize my community contributions and technical leadership. The YouTube channel and this blog have played a significant role in helping me get the award. I thank you all for making it possible.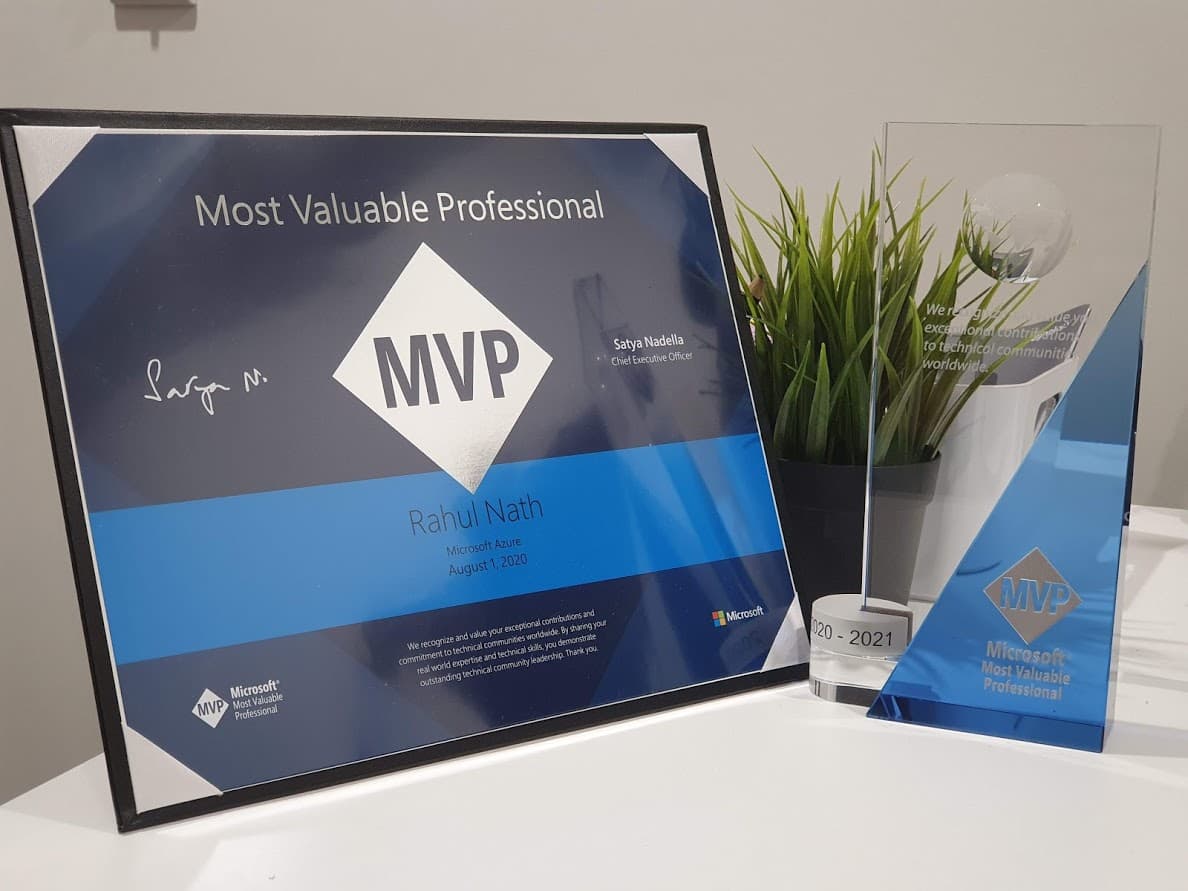 I started a Newsletter focused on Productivity tips, tools, books, etc. You can check it out here and please do Subscribe if you are interested.
What didn't go well
Tri Sports I started this year with a 10k run. But later that day, I slipped at the park while playing with Gautham (my son) and dislocated my shoulder. It was a slow recovery from the injury and mostly limited to running and cycling. I have still not tried swimming after the injury. I ran over 350+ km and 400+ km on cycle, but way less than my previous years. I am looking to get back into it in 2021.
Learning and Reading I had set a goal of reading 12 books but could only get to 5. However, I am happy to have done the Building a Second Brain Course by Tiago on Personal Knowledge Management. The course has changed the way I consume information online. I am slowly building out my Personal Knowledge Management System. I have started taking notes when reading books and blog articles.
Travel With COVID happening, it was a year with almost no travel. I am lucky to be in Australia as we could freely move around, at least most of the time. Except for a few day trips to the beaches and parks nearby, there was not much travel. I hope next year the situation becomes better.
Goals for 2021
This year I'm trying something different with my Goal setting. Rather than having a few very high-level Areas for the whole year, I will be breaking the high-level areas into Quarterly goals. Focus for 2021 is to Improve my Fitness, Grow my Audience, Learning and Improving Family Experience.
I have broken this further down into Quarterly Goals following the SMART criteria. Each Goal has a set of associated Ideas. These are the ways I think I can achieve the Goal.
Check out my December Newsletter if you want to learn more about Goal Setting!
Some of my main Goals or Key Results for the first quarter of 2021 are
Run a Half Marathon in less than 2 hours and Cycle a 100km course in Zwift
Gain 2.5k YouTube Subscribers and 200 Twitter followers
Pre-launch an Online Course
Complete 'The Art of Reading' Course, Read two books and publish Summaries.
Buy and Move to House
I currently manage my Areas of Focus, Goals, and Ideas in Notion as a table. I still do Bullet Journaling, but maintain it in Notion instead of a physical journal.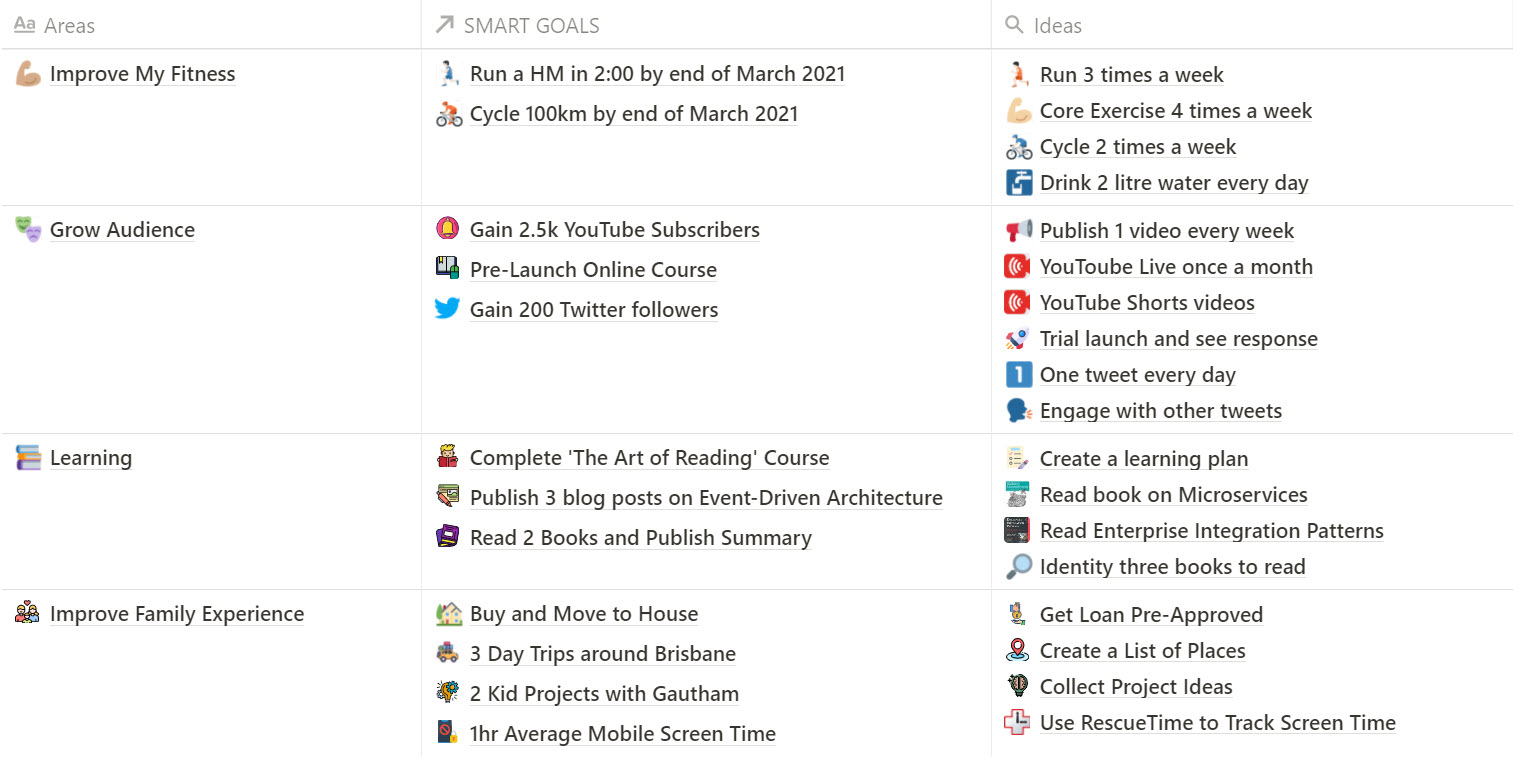 I am aiming high here with these Goals and would be happy to hit 80% of them. I will do a follow-up review towards the end of March 2021 and see where I stand with these Objectives and Goals.
Wishing you all a Happy and Prosperous New Year!
Rahul Nath Newsletter
Join the newsletter to receive the latest updates in your inbox.
---