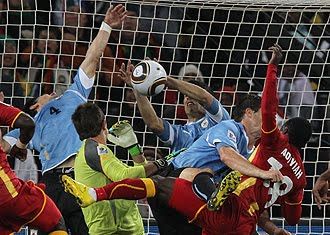 Table of Contents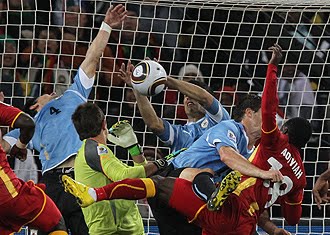 Luis Suárez....that name would be said few more times, at least till Uruguay's fate is decided in FIFA WC 2010.Early Saturday morning(IST),witnessed some [dramatic moments](http://www.fifa.com/worldcup/matches/round=249718/match=300061508/index.html#ghana+penalty) of WC 2010.With the game about to be pushed into the shootout,which it did end up eventually,Ghana was to score a goal of substitute Dominic Adiyiah's header which was denied by Suárez with his 'hands'.The drama ended as Asamoah Gyan struck the crossbar for the penalty awarded and the match moved on to shootout,which saw Uruguay through to the best 4....shattering the African hopes. Is he a Hero or a Cheat???? Wasn't it something anyone would have done? Wasn't that a reaction rather than a response to a situation? Ghana could have scored in the penalty awarded.But is just a penalty enough instead of a sure shot goal?
Would it be the next 'Hand Of God'??
Hero Or Cheat,fouls are committed knowingly and unknowingly in any game,as in football,as in this dramatic game.
So the play goes on says referee and so does Uruguay without him into the final 4
edit: Not too far says Netherlands,putting an end to the Uruguay's tale of WC 2010
Rahul Nath Newsletter
Join the newsletter to receive the latest updates in your inbox.
---